If it is true that name Saśigupta and Chandragupta refer to same historical personage, then it must also follow that Chandragupta was native of Uttarapatha (north-west division) and belonged to some influential family of the Asvakas, west of Indus.[1] He initially started his career as war-leader or military adventurist and led a corporation of warriors to the aid of Persians. It is well known from classical sources that mercenary soldiers from north-west frontiers were frequently requisitioned by Persian rulers of Achaemenid line. It is also clear from a reliable contemporary witnesses such as Kautiliya who powerfully attests that the Kambojas and other north-west frontier people, at this period, lived by varta as well as by the use of weapons (Varta-shastropajivi). Pāṇini, in his Ashtadhyayi, includes the Ashvayana and Ashvakayana [2] sections of the Kambojas into republican people and styles them as Parvata Ayuddhajivi Samghas (mountaineer or highlander fighters's republics).[3][4][5] The Ashvayanas and Ashvakayanas of Pāṇini are the Aspasioi and Assakenoi of the classical writings and the Asvakas of the Mahabharata as well as of the Puranas. The Asvakas formed a section of the greater Kamboja tribes who had spread on both sides of Hindukush mountains. They were exclusively engaged in horse-culture, were known as distinguished breeders of notable horses and famous as expert cavalry.[6] See Ashvakas. One Buddhist tradition states that Chandragupta's father was killed in a border-clash and his pregnant wife sought refuge in Pushapapura where she gave birth to Chandragupta.[7] Pushapapura is an ancient name for Peshawar in north-west frontier land powerfully attested in the ancient inscriptions belonging to the Saka age i.e. Christian times.[8] But the belated Ceylonese Buddhist text Mahavamsatika (10th century AD) seems to have confused this Pushapapura of northwest with the eastern Indian Pushapapura (Pataliputra, also called Kusumpura) and has erroneously linked Chandragupta's birth to Pataliputra [9] which does not seem to bear closer scrutiny. Further, the chattel slavery was a custom prevalent only in north-west frontier countries. Majjhima Nikaya (5th century BCE) attests that in the lands of the Yavanas, Kambojas and some other frontier nations, there were only two classes of people…Aryas and Dasas…the masters and slaves. The Arya could become Dasa and vice versa.[10] There is, however, no evidence that slavery was practiced in Indian mainland/Madhyadesa and/or in Eastern India. Rather, Megasthenes, the Greek Ambassador to the court of Chandragupta, while writing on "Pataliputra and Manners of the Indians", specifically writes that: "The Indians do not even use aliens as slaves, and much less a countryman of their own".[11] At another place Megasthenes further observes: "Of several remarkable customs existing among the Indians, there is one prescribed by their ancient philosophers which one may regard as truly admirable: for the law ordains that no one among them shall, under any circumstances, be a slave, but that, enjoying freedom, they shall respect the equal right to it which all possess: for those, they thought, who have learned neither to domineer over nor to cringe to others will attain the life best adapted for all vicissitudes of lot: for it is but fair and reasonable to institute laws which bind all equally, but allow property to be unevenly distributed".[12] "Even Diodorus Seleucus notes with approval the (idealized) slaveless Indian society".[13][14]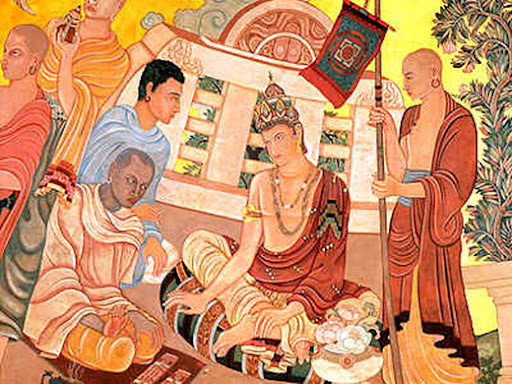 Interestingly the Buddhist texts also refer to Chandragupta as belonging to Kshatriya lineage [15] which means that Chandragupta was regarded as noble or Arya… and at the same time Buddhist text claims that Chandragupta's Arya uncle/relative living in Pataliputra (in Magadha, the heart of India), had sold this Arya Chandragupta (a child) for few takkas as a slave to a cowherd. And the cowherd sold him to a hunter, who in turn had sold him to Kautilya—a native of Taxila. Thus, this Buddhist claim strongly militates against all the above evidence of the Greeks as well as the Buddhists themselves. On the other hand as noted above, the people of Bahlika, Madra, Kamboja, Gandhara lands had developed a type of chattel slavery (which was not prevalent in main India/Magadha).[16] Thus, since the Chattel slavery is specifically documented to have been practiced in the north-west alone including the Yonas/Kambojas/Gandharas etc., this very historical fact surely means that sales/purchases of a child Chandragupta by a cowherd- a hunter, and later by Chanakya (Kautilya), must have taken place in the Gandhara/Kamboja land (probably near/around Peshawar=Pushpapura)) and not in the Indian mainland like Magadha/Eastern India as erroneously claimed by the belated Buddhist text Mahavamsatika. This indicates that Chandragupta was indeed a native of Kamboja/Gandhara and not of Magadha or east India.
Srimad Devi Bhagavatam of Markandeya Purana brackets the Kamboja and the Maurya clans together as allied warrior clans and calls them both as Asuras (Ahuras?).[17][18][19] There are also epic references to Maurya king Ashoka which style him as Maha-Asura—i.e. great Demon.[20] Similarly, king Chandravarma Kamboja who finds mention in the Adiparva of the epic Mahābhārata is also styled as powerful Asura or a Demonic ruler, the incarnation of Chandra, foremost among the sons of Diti.[21][22] Same Adiparva of Mahabharata also styles king Ashoka Maurya as an incarnation of Asva (or Asvaka) and a son of Diti [23] which seems to connect him or his lineage to the Asvakas (Kamboja section) of north-west. Manusmriti [24] as well as Mahabharata [25] both style the Kambojas etc. as Vrishalah.[26] On the other hand, Sanskrit play Mudrarakshasa of Visakhadatta styles Chandragupta as Vrishala. Marcus Junianius attests that Chandragupta had a humble origin. It is notable that no ancient source attests Saśigupta to be ruler of any kingdom in the north-west prior to his appointment by Alexander as a governor of Aornos country of the eastern Asvakas. It is all merely scholars' speculation that he was perhaps a ruler of some hill state west of upper Indus and came of a royal background. As said above, he was in all probability, a remarkable military adventurer of non-royal background, hence Justin's statement that he rose from a commoner is perfectly compatible. Buddhist literature such as Mahavamsa relates Mauryas to Ksatriya lineage.[27] On the other hand, Pāṇini's Ashtadhyayi,[28] Manusmriti,[29] Mahabharata,[30] Harivamsa [31] and numerous Puranas etc. also list the Kambojas as Ksatriyas.
From the foregoing discussion, it appears very likely that Chandragupta alias Saśigupta belonged to some Asvaka branch, west of upper Indus, and hence more probably, he may have been from a Kamboja background. During/or immediately prior to this time in history, the Kambojas are known to have been very powerful people in the north-west as is indisputably attested by contemporary sources like Rock Edicts of king Ashoka as well as the Arthashastra of Kautiliya & the Ashtadhyayi of Pāṇini. Only about a century and a half earlier, Kamboja had evolved into one of the two prominent Mahajanapadas of the north-west. It is also notable that after the adoption of Buddhism by king Ashoka Maurya, entire resources of his vast empire were directed to the drive of propaganda especially in the north-west which also alludes to his concerns with and affinities towards the north-westerners.[32][33][34] Last but not the least, it was only with the warlike Kambojas (=Ashvakas) [35] and other north-western tribes like the Sakas, Bahlikas, Pahlavas and Kiratas that Chandragupta was able to lay the foundations of his great Maurya empire as is powerfully attested by Sanskrit play Mudra-rakashas by Vishakhadatta.[36] None of these tribes included in his army belonged to Central or Eastern India. This fact itself holds a very powerful clue that Chandragupta may have himself belonged to Northwest region and, in all probability, to the warlike Ashvaka sub-tribe of the Kamboja people.[37] It is perhaps, not at all unreasonable to conjecture that he may have been the same personage, referred to as (Asura king) Chandra.varman–the king of Kambojas—foremost among the sons of Diti, and as handsome as the lord of the stars himself who finds mention in the Adiparava of Mahabharata [38]….the "varman" part of his name simply implying his Kshatriya lineage. Ancient Sanskrit play "Mudrarakshasa" of Vishakhadatta addresses Chandragupta Maurya as Chandra.sri, Priyadarshana (very handsome) and Vrishala (of degraded lineage). Dr H. C. Raychaudhury noted that name "Priyadarshi" was adopted also by Chandragupta as also noted by W. W. Tarn.[39]
References