The list of various books on History of Kambojas:
Ancient Kamboja - People and Country (

प्राचिन कम्बोजः जन और जनपद

, Prācīna Kamboja: Jana aur Janapada) written by Dr. Jiya Lal Kamboj, Dilli : Istarana Buka Linkarsa, 1981.Description: xv, 190 [i.e. 390] p. : maps ; 22 cm.
Kambojas - Yugan De Aar Paar (Kambojas through the Ages) is a wonderful book written by Sardar Kirpal Singh Dardi.https://www.facebook.com/kirpalsingh.dardi/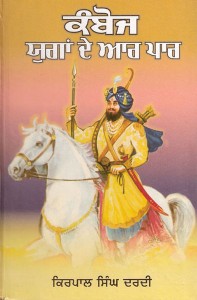 'Taarikh Aale Kambojia'(meaning the history of Kamboj nation) is a wonderful, informative Urdu book written in this context. The book is based on more than 20 years of research by late 'Chaudhry Allah Ditta Kamboh Majithia'(1921-2002), a Muslim Kamboh who migrated from Amritsar (India) to Lahore (Pakistan) during Indo-Pak partition in 1947. It is available at most Libraries in Lahore, including the Punjab Public Library.
Kambojas - Antiquity and Dispersal written by Sardar Prakash Singh Jammu.
The book 'Kambojas of the old Persian inscriptions and Sanskrit Vedic literature' by Mr. Gian Singh Thind of Canada was released at Punjabi Bhavan here yesterday. The chief guest was Dr. Surjit Patar, president of the Punjabi Sahitya Academy, and the function was presided over by the senior vice-president of the academy, Prof Gurbhajan Singh Gill. Dr. Gurdev Singh Chandi, Reader, Punjabi University, Patiala, and Punjabi litterateur Kirpal Singh Dardi, were present. The book is about the origin and kingdoms of the Kambojas.The book carriers excerpts from the Vedas, the Upnishads, the Sutras, the Puranas and the Mahabarata. Dr. Surjit Patar termed the book a 'classical anthology while Professor Gill said Mr. Thind had done a commendable job by writing about hidden truths in history. Dr. Chandi said the book would be a boon for historians and students of history.
Kamboja: A Short History of the Kamboj by Lajwant Singh Thind, Kaleem Kamboj, Publisher: M. Chaudhry Publisher, 2002
Alamshahir (Urdu), writer (?)
Silsila Alia, 18xx (start of 18th c AD) by Janab Anaiyat Hussain Maharevi.
Khandan-a-Zuberi Kambovi, 1951, Merat by Janab Hussain Ahmad Zuberi
Aina-a Khem Karan, (Urdu) Lahore, 1925, by S. Partap Singh Nibber
Trarikh-a-Shiv Janaki, (Urdu) Patiala 1910, by Lala Shiv Chand Sunami
Kamboj Twarikh (Punjabi) Mathianda, Patiala 1952, by S. Raghu Nath Singh.
Safina-a-Maleri, Lahore, 1902, by Janab Abdula Kamboj Maleri
Kamboj Itihass, Sunam, by Principle J.N. Sandhe (a well known writer, has written over 40 books in all, was honored by the President of India for his literary services).)
Kambojas: Prachin se Avachin Tak (Hindi), 2001 by Journalist Sher Singh Nirmal
Kambojas Through the Ages, (coming soon) by J.D.S Mehroke, England. (English)
Kamboj Itihaas, 1972, by H. S. Thind, Pb: S Bishan Singh Moti VPO Surewal, Tesil Tibi. Dist Ganga Nagar, Rajasthan.
Eh Kamboj Loke (Historical, and Cultural Study of Kambojas) 1979 By K. S. Dardi. (a well-known writer, has written over 10 books in all, was honored by the President Giani Zail Singh in 1975 for his outstanding social & literary services)
Tarikh-i-Kambohan, Chouhdri Wahhab ud-din Kamboh Amritsari , Nurpur( Layalpur ), 1938, Second Ed 1972.
Tarikh-i-Qaum-i-Kamboh, , Lahore, Jul. 1996 by Chaudhary Muhammad Yusaf Hassan Kamboh 37-E Model Town Lahore, Pakistan. https://www.l.u-tokyo.ac.jp/IAS/6-han/database/SouthAsiaBooks.htmlHere are some more books on Kambojas published in Pakistan:"History Kambohan" by Chaudhary Muhammad Mohsin IqbalKamboh Street, Maqbool RoadIchra, LahorePakistan(16)"History - Kamboh Nation""History-Kamboh" by Mian Abdul Rasheed KambohAdvocate Karachi
These following two titles on Kamboja people listed in the Khmer(Cambodian) Books catalogue.(17) 4848.Author: Kamboja, Jiyalala, 1932- Title: Pracina Kamboja, jana aura janapada = Ancient Kamboja, people and country. Publisher: Dilli : Istarana Buka Linkarsa, 1981. Description: xv, 190 [i.e. 390] p. : maps ; 22 cm.Notes: In Hindi. Includes index. Bibliography: p. 367-375. History of Kamboja, now part of Frontier Pakistan. PUBLICATION TYPE: Book. Language: Hindi. Subjects: North-west Frontier Province (Pakistan) -- History. Other entries: Ancient Kamboja, people and country. https://groups.google/groups?q=Ancient%2Bkamboja%2Bpeople&hl=en&selm=3kns8m%24k0v%40mark.ucdavis.edu&rnum=8 (18) 4211. Author: Kamboja, Bishana Singha. Title: Kamboja prakasha : mukha taura te salatanatam. Publisher: Patiala : Ara. Aima. Aisa. Azada, 1980. Description: 4, 376 p., [6] leaves of plates : ill., maps ; 22 cm. Notes: In Panjabi. Bibliography: p. 375-376. History and civilization of Kamboja people, of ancient northwestern India, now part of Pakistan. PUBLICATION TYPE: Book. Language: Panjabi. Subjects: North-west Frontier Province (Pakistan) -- History. https://groups.google/groups?q=Ancient%2Bkamboja%2Bpeople&hl=en&selm=3kmhu7%241f8%40mark.ucdavis.edu&rnum=9 PERODICALS/MEGAZINES ON KAMBOJAS Kamboj Gazette (Punjabi) 1914"""".: Lala Shiv Ram Das, Amritsari, Dr Ganga Singh Soni, Khem Karn. Kamboj Sandesh (Punjabi) 1953""".:S Harbhajan Singh Momi Kapurthala. Kamboj Samachar (Punjabi), Jalandhar by Chander Shekhar Sandhe Jay Kamboj (Punjabi) Feroze Pore, 1967-----1995 by Ch Daulat Ram Thind Kamboj Parkash New Delhi (Hindi) started in sixties. Kamboj Hitaishy (Hindi), 1976----- New Delhi Fakhar-a-watan, Feroze Pore by Ch D. S. Kamboj, Ch C. R Kamboj (Jalabad) Al-Zuber (Urdu Weekly) Saharan Pore/Uttar Pardesh. Parlayankar (Hindi, Fortnightly total circulation more than 75000), Uttarpardesh by T. R. Kamboj Here are some more books on Kambojas published in Pakistan: "History of Kamboh" by Chaudhary Wahab ud Din Kamboh Society Kambohana Pakistan Dars Baba Attar near Kamboh Hall Ichra, Lahore Pakistan "History Kambohan" by Chaudhary Muhammad Mohsin Iqbal Kamboh Street, Maqbool Road Ichra, Lahore Pakistan "History - Kamboh Nation" by Chaudhary Muhammad Yusaf Hassan Kamboh 37-E Model Town Lahore, Pakistan "History-Kamboh" by Mian Abdul Rasheed Kamboh Advocate Karachi Vishal Kamboj (Monthly Kamboj Magazine) Sher Singh Kamboj "Nirmal" Chief Editor Village Mohmmadpur, P.O. Sherpur Khanazadpur Dist. Saharanpur - 247662, India Phone (0132) 2784496 ( R ) Mobile 09837435139 Kambojas and Cambodia by Frederic P Miller
Title Kambojas Editors Frederic P. Miller, Agnes F. Vandome, John McBrewster Publisher Alphascript Publishing, 2010 ISBN 6130053150, 9786130053154 Length 42 pages The content of this book primarily consists of articles available from Wikipedia or other free sources online. Kambojas. Kambojas in Indian literature, Kamboja horsemen, Migration of Kambojas, Kamboj, Kamboj in Muslim and British Era, Kamboja Kingdom, Language and ethnicity of Kambojas, Etymology of Kamboja, Location of the Kamboja Kingdom, Kamboj in ancient inscriptions, KambojaDvaravati Route
Read more:https://www.unp.me/f16/kamboj-tribe-and-history-48971/
Source: https://punjabi.net/talk/messages/45120/15662.html?1099126305