Navreet Josan, a 30-year-old make-up artist based in Delhi.аAfter spending her student life in a boarding school in Nainital, Navreet moved to Delhi in 2005 to pursue her makeup artistry dreams. She got a diploma in makeup at Pearl Academy of Fashion and began her journey as a professional in the field. But that's not all. She's also a kickass body builder in the bikini category.аAthletics was a big part of Josan's boarding school life. She began weight training in grade 12 and went onto pursuing Muay Thai training for five years in Delhi coach from Amsterdam. But that wasn't enough. "Two years ago, I was at a point where I was going to the gym and doing my thing. I wanted to elevate myself to the next level and was looking for something that was exciting and challenging. I wanted to be a part of something that's bigger than me," she told BuzzFeed.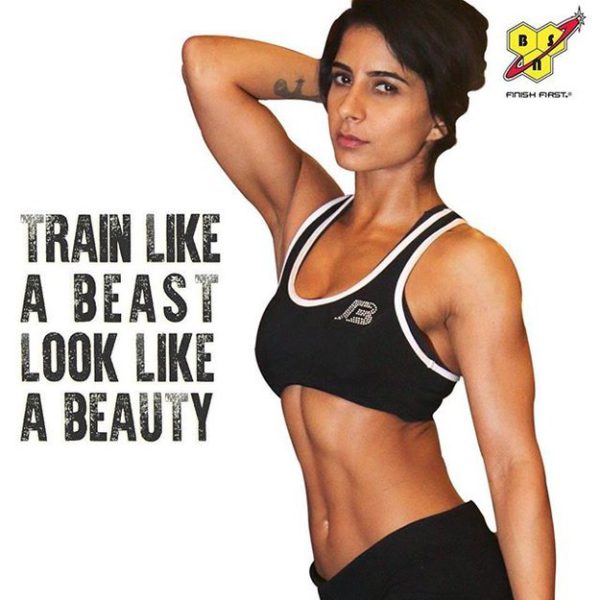 "I played countless YouTube videos to watch some amazing athletes compete and lost my sleep that night! They looked SO amazing and super fit. That was it – I knew I was on my way to being on that stage soon," she said. She signed up for competition-level training and stood fourth in a competition in Florida in 2014. "In 2015, I did three competitions back-to-back in NYC and Florida and won two gold trophies, one silver and two bronze!" she told BuzzFeed. "America is a seasoned market and I knew I would have to work REALLY hard to place in these competitions. My coach helped me with my nutrition and workouts online and I got my body ready for stage," she further said. "When a woman is suggested weight training or asked to stack up and increase weights during their training, the usual reply is 'Are you sure? Because I don't want to look like a man,'" Josan said. Quite often she's asked how she balances it all. "I don't. It's less about balancing my work and personal life and more about creating a full and rich lifestyle that is tailored to my priorities and goals," she further added. "Women today are incredibly multidimensional. We all take a fair shot at being the architect of the kind life we want to live," she said, touching on stereotypes and expectations of women. "We're building careers, yes, but we're also exploring things we are passionate about outside the office. I'm a trainer with a leading makeup brand. But, I'm also a daughter, a sister, an aspiring runner, and a fitness competitor," she says.
You can follow this winner on Instagram here.
https://www.pictaram.com/user/lilrocket/272875373 Source:аhttps://www.buzzfeed.com/imaansheikh/navreet-josan?utm_term=.yngp4GQ7K9#.vx52anKg8b https://lazysquirrel.in/this-indian-body-builder-and-makeup-artist-is-smashing-stereotypes/ Facebook:аhttps://www.facebook.com/errratica