India celebrate its independence day on 15th August each year. India was become free from the British rules on 15th of August, 1947. Thousands of Indians had become martyr to make our mother land India free from Britishers. Our grand parents and their fathers had also taken part in Independence day movements. On this day we remember our martyrs and give salute to them by giving salutaryа speech about them.
When power is misused, it translates into violence; but when it is used for achieving one's Righteous goals, it amounts to justice. This revolutionary ideology was stated by the great revolutionary Bhagat Singh and Udham Singh. Any sacrifice will be inadequate to accomplish the greatest aim of freeing the motherland, was the inspiring outlook of Bhagat Singh, Sukhdev, Rajguru, Chandrashekhar Azad, Mangal Pandey, Madanlal Dhingra, Kartar Singh Sarabha, Udham Singh and their Ghadar associates in the freedom fight. Today is the day when these we can remember and salute these great revolutionaries who had laid down their lives in their effort to achieve their goal.
O People! Do not be so ungrateful to Revolutionaries so as to forget them!
Our politicians have seemingly dismissed memories of revolutionaries' sacrifice completely. Their martyrdom appears to have no value for those with a political agenda.
KambojSociety.com wishes Happy Independence Day to all my Indians out there, whether in the Motherland or living abroad !
Remembering a small fraction of those who've played a tremendous part in gaining freedom for India. From martyrs to presidents, we owe these people everything.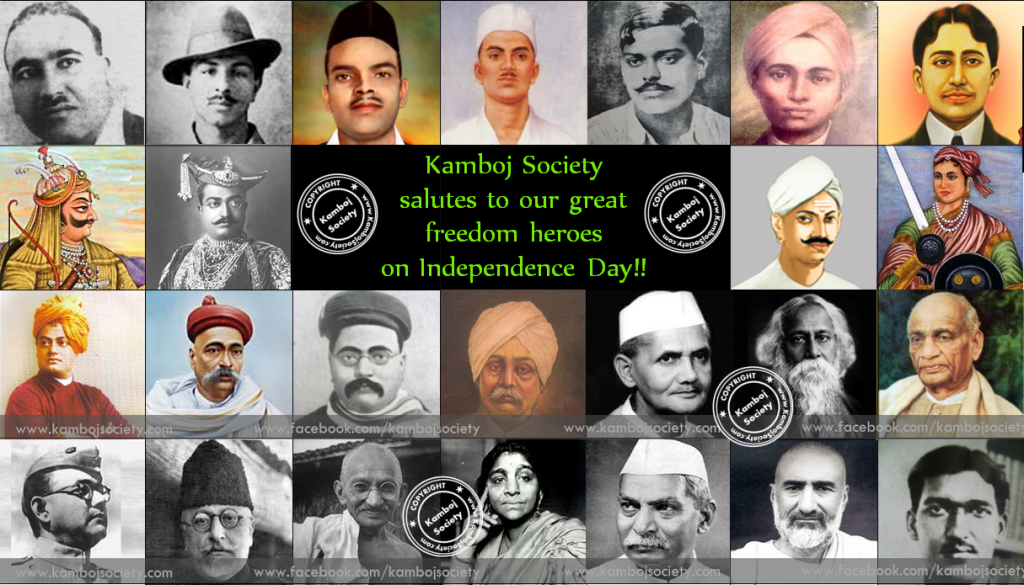 (First row left to right): Udham Singh, Bhagat Singh, Shivram Hari Rajguru, Sukhdev Thapar, Chandrashekhar Azad, Kartar Singh Sarabha, Madanlal Dhingra (Second row): Maharana Pratap Singh, Nana Sahib Peshwa, Mangal Pandey, Rani Laxmibhai (Third row): Swami Vivekananda, Balgangadhar Tilak, Gopal Krishna Gokhale, Lala Lajpat Rai, Lal Bahadur Shashtri, Rabindranath Tagore, Sardar Vallabhbhai Patel (Fourth row): Subhas Chandra Bose, Maulana Azad, Mohandas Gandhi, Sarojini Naidu, Rajendra Prasad, Khan Abdul Ghaffar Khan, Ashfaqulla Khan Salute to all our freedom fighter!!! Regards, Deepak Kamboj