Jasleen Josan, a city girl from Kurukshetra, Haryana, has made not only her parents but also the entire country proud by being a part of International Space Education Institute Team-Germany that secured the second position in university division in NASA's second annual human exploration rover challenge held in April at the US Space and Rocket Centre in Huntsville, Alabama.She was part of an eight-member team that includes participants from three countries (India, Germany and Russia). Her previous achievement makes her more special as she was last year selected as a researcher for the NASA's Orion 2030 mission. Jasleen is currently a student at Student at The University of Alabama in Huntsville. She was mentor at American Society of Safety Engineers (ASSE) and Research Scientist atNASA – National Aeronautics and Space Administration.
Talking to press, Jasleen, a resident of Ekta Vihar, said, "Inspired by the first Indian woman in space Kalpana Chawla, I too want to become an astronaut. Kalpana belonged to Haryana and I want to do something that makes people remember me too."She said, "As many as 93 teams had participated in the rover challenge. We had collaboration with Germany and prepared a Moon Buggy that completed its race in 4.44 minutes and won the second position."Out of eight, five members belonged to India and Jasleen was the main pilot of the buggy. She said, "Impressed with my performance, NASA has selected me as the Indian Space Ambassador."About the Orion mission, she said, "To get selected as a researcher for Orion mission, 500 participants had applied worldwide and I managed to secure the second position in the top five. Besides me, there are four more members in the Orion mission team and they belong to America, Russia, Australia and Canada. The team would work on space shuttle's interior design and on the space suits of the astronauts."The daughter of an agriculturist said, "The schedule is likely to be announced within a couple of days. It would be a two-and-a-half month training session. If they are satisfied with my performance, I would be a permanent member of the mission team."Jasleen completed her B Tech in Aeronautical Engineering from Chennai last month and she would be doing her Masters in Astronomy and Astrophysics from the US. "Three American universities have approached me for higher studies," she said. Her parents, Satwant Singh and Beant Kaur, said, "Our girl has made us proud. Her hard work has paid off."The young achiever had presented a research paper on "Mathematical Application in Aerospace for Safety Measures" in American Society of Safety Engineer (ASSE 2014) held in Florida and had won the first prize for the best presentation.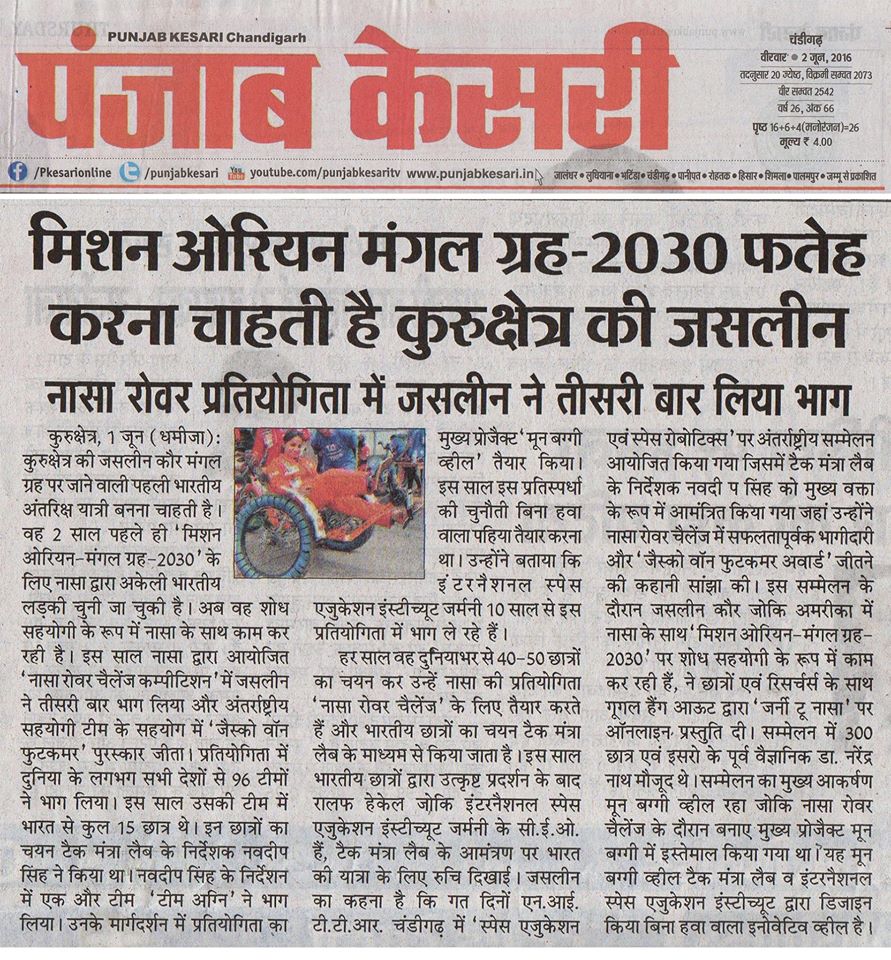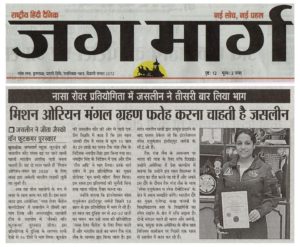 KambojSociety.com, entire Kamboj Community and country is proud of her.
Facebook Page: https://www.facebook.com/astronautjasleen
LinkedIn: https://www.linkedin.com/in/jasleen-josan-27b17a57