Major Festivals of India - Year 2021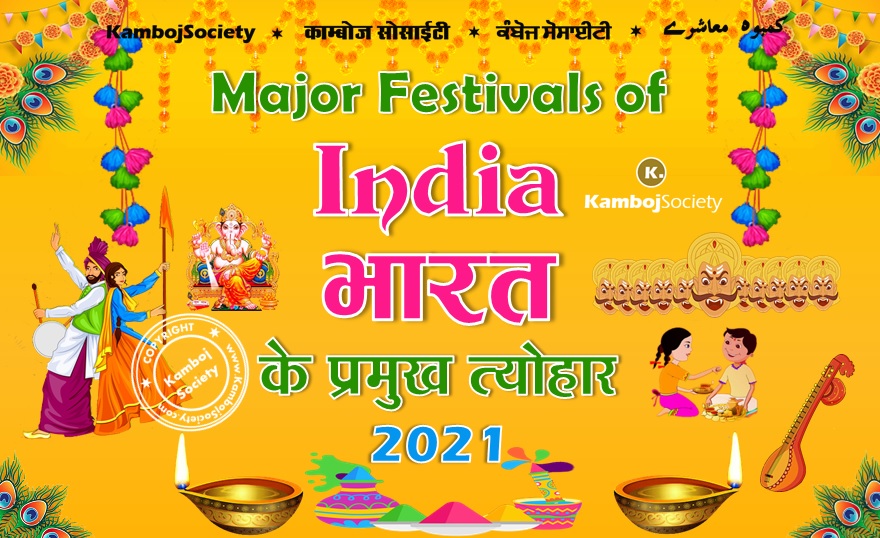 India has one of the world's largest collection of songs, music, dance, theatre, folk traditions, performing arts, rites and rituals, paintings, writings and festivals that are known as the 'Intangible Cultural Heritage' of humanity. As we all know, India is a land of fairs and festivals, and each festival has its own significance to celebrate. India is an amalgamation of diverse cultures, languages, and religions ensure that there is a festival being celebrated in some part of India every week, in a unique way and with a unique name.
The most famous festivals of India are Diwali, Holi, Dussehra, Navratri, Durga Puja, Ram Navami, Janmashtami, Ganesh Chaturthi, Gurupurab, Guru Nanak Dev Jayanti, and Eid-Ul-Fitr. The festival celebrated in India is a true manifestation of its rich culture and tradition.
Here is the list of major festivals celebrated in India all year long with dates..
January 2021
New Years Day (नए साल) - Jan 1st, 2021
Saphala Ekadashi (एकादशी) - Jan 9th, 2021
Lohri (लोहड़ी) - Jan 13th, 2021
Bhogi (भोगी) - Jan 14th, 2021
Pongal (पोंगल) - Jan 14th, 2021
Makar Sakranti (मकर संक्रांति) - Jan 14th, 2021
Thiruvalluvar Day (तिरुवल्लुवर दिवस) - Jan 16th, 2021
Uzhavar Tirunal (उझावर तिरुनल) - Jan 16th, 2021
Pausha Putrada Ekadashi (एकादशी) - Jan 24th, 2021
Republic Day (गणतंत्र दिवस) - Jan 26th, 2021
Me-dam-me-phi (मी डैम मी फी) - Jan 31st, 2021
February 2021
Shattila Ekadashi (एकादशी) - Feb 7th, 2021
Vaishnava Shattila Ekadashi (एकादशी) - Feb 8th, 2021
Tibetan New Year (तिब्बती नए साल) - Feb 12th, 2021
Vasant Panchami (वसंत पंचमी) - Feb 16th, 2021
Jaya Ekadashi (एकादशी) - Feb 23rd, 2021
Hazrat Ali (हज़रत अली) - Feb 25th, 2021
Guru Ravidas (संत रविदास) - Feb 27th, 2021
March 2021
Vijaya Ekadashi (एकादशी) - Mar 9th, 2021
Dol Jatra (दोल जात्रा) - Mar 10th, 2021
Maha Shivratri (महाशिवरात्रि) - Mar 11th, 2021
Telugu New Year (तेलुगु नया साल) - Mar 13th, 2021
Amalaki Ekadashi (एकादशी) - Mar 25th, 2021
Holika Dahan (होलिका दहन) - Mar 28th, 2021
Holi (होली - रंगों का त्योहार ) - Mar 29th, 2021
April 2021
Odisha Day (ओडिशा दिवस) - Apr 1st, 2021
Bank Holiday (बैंक अवकाश) - Apr 1st, 2021
Good Friday (गुड फ्राइडे) - Apr 2nd, 2021
Papmochani Ekadashi (एकादशी) - Apr 7th, 2021
Month of Ramadan (रमज़ान का महीना) - Apr 12th, 2021
Ugadi (उगादी) - Apr 13th, 2021
Vaisakhi (बैसाखी ) - Apr 13th, 2021
Bohag Bihu (बोहाग बिहू या भोगली बिहू) - Apr 13th, 2021
Navratri Day 1 - Goddess Shailputri (मां शैलपुत्री - पहले दिन) - Apr 13th, 2021
Tamil New Year (तमिल नव वर्ष) - Apr 14th, 2021
Vishu (विषु त्यौहार) - Apr 14th, 2021
Bengali New Year (पोहेला बैशाख ) - Apr 14th, 2021
Navratri Day 2 - Goddess Brahmacharini (मां ब्रह्मचारिणी - दूसरे दिन) - Apr 14th, 2021
Himachal Day (हिमाचल दिवस) - Apr 15th, 2021
Navratri Day 3 - Goddess Chandraghanta (मां चंद्रघंटा - तीसरे दिन) - Apr 15th, 2021
Navratri Day 4 - Goddess Kushmanda (मां कूष्माण्डा - चौथे दिन ) - Apr 16th, 2021
Navratri Day 5 - Goddess Skandamata (मां स्‍कंदमाता - पांचवें दिन) - Apr 17th, 2021
Navratri Day 6 - Goddess Katyayini (मां कात्यायनी - छठा दिन) - Apr 18th, 2021
Navratri Day 7 - Goddess Kalaratri (कालरात्रि देवी - सातवें दिन) - Apr 19th, 2021
Navratri Day 8 - Mahagauri (महागौरी - आठवें दिन) - Apr 20th, 2021
Ram Navami (राम नवमी तथा राम जन्म) - Apr 21st, 2021
Navratri Day 9 - Goddess Siddhidatri (माँ सिद्धिदात्री - नौवां दिन ) - Apr 21st, 2021
Kamada Ekadashi (एकादशी) - Apr 23rd, 2021
Mahavir Jayanti (महावीर जयन्ती) - Apr 25th, 2021
Hanuman Jayanti (हनुमान जयंती) - Apr 27th, 2021
May 2021
Maharashtra Day (महाराष्ट्र दिवस) - May 1st, 2021
May Day (मई दिवस) - May 1st, 2021
Jumat-ul-Wida (जमात-उल-विदा) - May 7th, 2021
Varuthini Ekadashi (एकादशी) - May 7th, 2021
Parashurama Jayanti (परशुराम जयंती) - May 14th, 2021
Basava Jayanti (बसव जयंती) - May 14th, 2021
Eid-ul-Fitar (ईद अल फ़ित्र) - May 14th, 2021
Sikkim State Day (सिक्किम दिवस) - May 16th, 2021
Sita Navami (सीता नवमी ) - May 21st, 2021
Mohini Ekadashi (एकादशी) - May 22nd, 2021
Gauna Mohini Ekadashi (एकादशी) - May 23rd, 2021
Buddha Purnima (बुद्ध पूर्णिमा) - May 26th, 2021
June 2021
Apara Ekadashi (एकादशी) - Jun 6th, 2021
Shani Jayanti (शनि जयंती) - Jun 10th, 2021
Raja Sankranti (मिथुन संक्रांति व रज पर्व महत्त्व) - Jun 15th, 2021
Nirjala Ekadashi (एकादशी) - Jun 21st, 2021
Sant Guru Kabir Jayanti (भगत कबीर जयंती) - Jun 24th, 2021
July 2021
Yogini Ekadashi (एकादशी) - Jul 5th, 2021
Jagannath Ratha Yatra (जगन्नाथ रथयात्रा) - Jul 11th, 2021
Bakr Id/Eid ul-Adha (बकर-ईद / ईद-उल-अज़हा) - Jul 20th, 2021
Devshayani Ekadashi (एकादशी) - Jul 20th, 2021
August 2021
Bonalu (बोनालु) - Aug 4th, 2021
Kamika Ekadashi (एकादशी) - Aug 4th, 2021
Teej (हरतालिका तीज) - Aug 11th, 2021
Onam (ओणम) - Aug 12th, 2021
Thiruvonam (थिरुवोणम) - Aug 12th, 2021
Independence Day (स्वतंत्रता दिवस) - Aug 15th, 2021
Parsi New Year (पारसी नया साल) - Aug 17th, 2021
Muharram (मुहर्रम) - Aug 18th, 2021
Shravana Putrada Ekadashi (एकादशी) - Aug 18th, 2021
Raksha Bandhan (रक्षाबंधन) - Aug 22nd, 2021
Janmashtami (श्री कृष्ण जन्माष्टमी) - Aug 30th, 2021
September 2021
Aja Ekadashi (एकादशी) - Sep 3rd, 2021
Ganesh Chaturthi (गणेश चतुर्थी) - Sep 10th, 2021
Nuakhai (नुआखाई) - Sep 11th, 2021
Vishwakarma day (विश्वकर्मा पूजा) - Sep 17th, 2021
Parsva Ekadashi (एकादशी) - Sep 17th, 2021
Mahalaya (महालया) - Sep 20th, 2021
Haryanas Heroes Martyrdom Day () - Sep 23rd, 2021
October 2021
Indira Ekadashi (एकादशी) - Oct 2nd, 2021
Feast of St Francis Xavier (संत फ्रांसिस पर्व) - Oct 4th, 2021
Bathukamma (बतुकम्मा) - Oct 7th, 2021
Maharaja Agrasen Jayanati (महाराजा अग्रसेन जयंती ) - Oct 7th, 2021
Ramlila (रामलीला) - Oct 7th, 2021
Durga Puja (दुर्गाष्टमी पूजा ) - Oct 11th, 2021
Ayudha Puja () - Oct 14th, 2021
Mahanavami (महानवमी) - Oct 14th, 2021
Kota Dussehra (कोटा दशहरा) - Oct 14th, 2021
Dussehra (दशहरा) - Oct 15th, 2021
Papankusha Ekadashi (एकादशी) - Oct 16th, 2021
Kati Bihu (काति बिहू) - Oct 18th, 2021
Milad-un-Nabi / Id-e-Milad (मीलाद उन-नबी / ईद मिलादुन्नबी) - Oct 18th, 2021
Maharishi Valmiki Jayanti (महर्षि वाल्मीकि जयंती) - Oct 20th, 2021
Karwa Chauth (करवा चौथ) - Oct 23rd, 2021
November 2021
Haryana Day (हरियाणा दिवस) - Nov 1st, 2021
Kannada Rajyotsava () - Nov 1st, 2021
Rama Ekadashi (एकादशी) - Nov 1st, 2021
Dhanteras (धनतेरस) - Nov 2nd, 2021
Narak Chaturdashi (नरक चतुर्दशी ) - Nov 3rd, 2021
Lakshmi Puja (लक्ष्मी पूजा) - Nov 4th, 2021
Kali Puja (काली पूजा) - Nov 4th, 2021
Diwali (दीपावली) - Nov 4th, 2021
Bhai Dooj (भाई दूज) - Nov 6th, 2021
Chhath Puja (छठ पूजा) - Nov 10th, 2021
Devutthana Ekadashi (एकादशी) - Nov 14th, 2021
Vaishnava Devutthana Ekadashi (एकादशी) - Nov 15th, 2021
Rasa Purnima () - Nov 19th, 2021
Kanakadasa Jayanti (संत कनक दास जयंती) - Nov 22nd, 2021
Utpanna Ekadashi (एकादशी) - Nov 30th, 2021
December 2021
Mokshada Ekadashi (एकादशी) - Dec 14th, 2021
Goa Liberation Day (गोवा मुक्ति दिवस) - Dec 19th, 2021
Christmas Day (क्रिसमस) - Dec 25th, 2021
Boxing Day ( मुक्केबाजी दिवस) - Dec 26th, 2021
Saphala Ekadashi (एकादशी) - Dec 30th, 2021
New Year Eve (नए साल की पूर्वसंध्या) - Dec 31st, 2021