Ferozepur, August 1,2016 :  Perhaps for the first time, the people from all parts of India and abroad –US and Canada,  in thousands, participated on Martyrdom Day of Udham Singh –  a great martyr of Indian Freedom Struggle – in the Candle March at Jantar Mantar to India Gate on Sunday evening.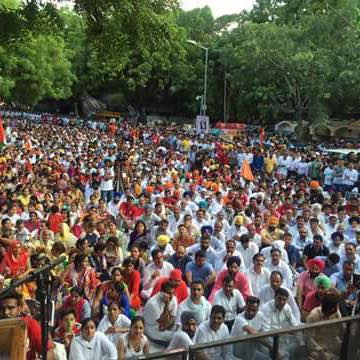 Parminder Singh Thind, Media Incharge, International Sarv Kamboj Samaj who had represented from Ferozepur on the event said, Udham Singh was an Indian revolutionary best known for assassinating Sir Michael O'Dwyer, the former Lieutenant Governor of the Punjab in British India, on 13 March 1940. He spent his whole life to punish Michael O'Dwyer, the British Lieutenant Governor of the Punjab who ordered the massacre of a thousand people at Jallianwala Bagh   in Amritsar on April 13,1919.
The entire programme was led by Mahant Baba Brahmadas Ji 'gadhinasheen' Babb Bhuman Shah Ji Dera Sangar Sadha Sirsa Haryana under the banner of Ch.Daulat Ram Kamboj,Patron, International Sarv Kamboj Samaj which was started with the blessings of Nanak Chand Kamboj.
In this programme, Karndev Kamboj, Food and Supplies Minister, Haryana, Ram Chander Kamboj, MLA Rania, Haryana, Roshan Lal Kamboj, Social Activist and Industrialist, Hardayal Singh Kamboj, MLA Punjab, Hans Raj Jossan, former Minister, Punjab Govt. Mohit Kamboj, National President, Bharat Bullion and Jewellers Association, Subhash Chander, Zee News, Iqbal Chand Banati, Joginder Pal Bhatt. Gurbhej Singh Kamboj, Bobby Kamboj, Naresh Kamboj, Harmeet Kamboj Pamma, Vikram Kamboj, Deepak Kamboj, Gagan Kamboj, Kewal Kamboj, Daulat Ram Patwari, Sukhdev Banti were present.
News Source: http://news.ferozepuronline.com/candle-march-on-martyrdom-day-of-shaheed-udham-singh-from-jantar-mantar-to-india-gate/